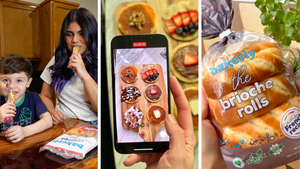 become a bakerly
Content Creator
Bonjour!
Do you love bakerly and want to share your love of our delicious snacks and brioche line with your friends, family, neighbors, (or even the whole world)? Or do you want to make 2023 the year you finally try our delicious loaf of hand-braided brioche you see every time you're at the grocery store? Well, friend (with great taste, might we add) -- we want to work with you!

Introducing our bakerly Content Creators!

We're looking for foodies just like you to join our content creator community! Whether you're an experienced influencer or a first-time content creator, we want to partner with you to create fun content for bakerly.
why should you become a bakerly
Content Creator?
Yummy Products
No, this isn't a dream. Waking up to delicious crepes and brioche at your doorstep can be your reality as a bakerly content creator! (Honestly, we might even apply.)
Earn Some Dough
You can make some serious dough (get it)? Our content creators will all be compensated (so you'll have a bread-y stream of income)! Plus, you will have opportunities to monetize your content via affiliate links.
Exclusive Perks
As a content creator for bakerly, you will gain acces to exclusive events, yummy perks, early access, and more!