Ingredients: strawberry filling (glucose fructose syrup, strawberry, sugar, glycerin, natural flavor, pectin, citric acid, sodium citrate), milk, wheat flour, sugar, eggs, sunflower oil, butterfat (from concentrated butter), salt.
Allergens: Contains eggs, milk, and wheat.
Made in a facility that also processes tree nuts.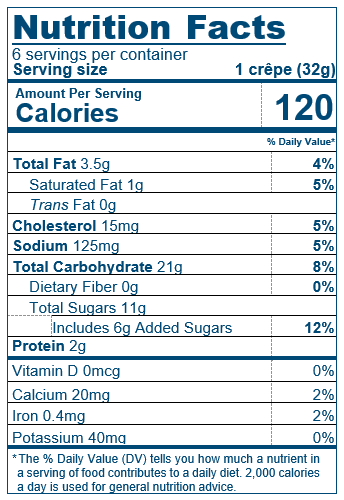 Our tasty treats have a shelf life of 30 days, and can be store at ambient temperature!
Deliciousness in a Wrapper!😋
DON'T
JUST
TAKE
OUR
WORD
FOR
IT
2000+
Verified
reviews
on
Truspilot
"Everything is so fresh and so convenient!
The crepes are to die for and a perfect "pick me up"!"
"Everything is so delicious.
I can't stop eating the crepes. I actually ate a bag and a half of crepes in one day. So good!"
"You should order!
Delicious without all the garbage ingredients. Came in a timely manner and packed well so nothing came smashed."
"WOW! Delicious 😋
WOW! I just got my first delivery. The filled crepes are my favorite. I heat them for 8 seconds in the microwave. Beautiful flavor!"
Authentic French recipes 💙
Made with Simple Ingredients
Authentic French recipes 💙
Made with Simple Ingredients
Authentic French recipes 💙
Made with Simple Ingredients